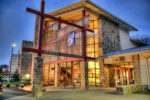 Butler County Community College is looking closely at which positions to fill as they stare down a budget deficit.
BC3 President Dr. Nick Neupauer says that certain positions will be left vacant in an effort to help balance the budget.
He acknowledged that some current employees will have to take on additional roles in order to take care of the responsibilities.
The college also is looking at reducing discretionary spending.
Heading into the school year, officials said the worst case scenario was a $2.9 million budget deficit. However, Neupauer says they won't come close to that number.
The post BC3 To Consider Leaving Positions Vacant appeared first on ButlerRadio.com – Butler, PA.