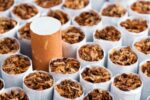 A bill has been reintroduced in Harrisburg that aims to eliminate smoking from places like bars and casinos.
Advocates of the bill say that some establishments were still able to allow smoking after the Clean Indoor Air Act passed in 2008.
Now, those in favor of the bill say that workers in facilities like casinos are being exposed to secondhand smoke, which is dangerous to their health.
Advocates also say there are studies that show smoke-free facilities are good for business.
The bill would eliminate loopholes in the Clean Indoor Air Act, expand the ban to e-cigarettes, and give local government the ability to enact smoke-free ordinances that are tighter than the state law.
The post Bill Reintroduced Would Ban Smoking In Casinos appeared first on ButlerRadio.com – Butler, PA.