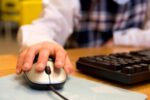 Some local students will be learning about the dangers of cyberbullying later today.
Mars Area Middle School will be holding a Social Media and Cyber Abuse assembly today as well as Tuesday.
Seventh and eighth graders will hear about how social media can harm young people along with how to report issues through the Safe2Say initiative.
Program speakers are expected to include an Adams Township Police officer, a representative of Butler County Juvenile Probation, and District Magistrate Amy Marcinkiewicz.
The post Mars Holding Social Media And Cyber Abuse Assembly appeared first on ButlerRadio.com – Butler, PA.