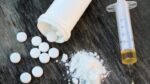 A rally this weekend in Washington D.C. will remember those who lost their lives to fentanyl.
The event is called "Lost Voices of Fentanyl" and it will be the third year organizers have had the rally.
The advocacy group behind the event is also known as the "Lost Voices of Fentanyl" and they have an active Facebook following, which includes local residents who have been impacted by the fentanyl crisis.
"We will raise our voices for those who can no longer speak for themselves," April Babcock, founder of the organization said. "The pain of losing a child is indescribable, and we are determined to fight relentlessly until effective measures are taken to end this crisis."
The rally will make stops in front of the Washington Monument and the White House.
Locally, over 60 people have lost their lives this year due to an overdose in Butler County.
The post National Rally To Remember Lives Lost To Fentanyl appeared first on ButlerRadio.com – Butler, PA.