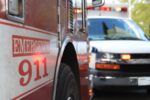 Firefighters in Butler County were busy Tuesday afternoon with a couple of fires.
The first call came into the Butler County 911 Center shortly before 3:30 p.m. for a stove fire in the 400 block of Carbon Center Road in Clearfield Township. Crews from East Butler, Herman, and Chicora responded to the scene but were clear within a half hour.
The second call came in five minutes later for a garage fire in the 200 block of Browntown Road in Mercer Township. Crews from Harrisville, Slippery Rock, Marion Township, Unionville, and West Sunbury were dispatched to find heavy smoke and fire in an attic area. The fire was marked out after about an hour but the power company has been requested to disconnect that address.
It is not believed that anyone was hurt as a result of either fire.
The post Afternoon Fires Keep Crews Busy appeared first on ButlerRadio.com – Butler, PA.