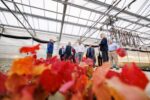 The Pennsylvania Department of Agriculture is continuing efforts to protect the state's economy by preventing damage caused by invasive species.
Ag Secretary Russell Redding says invasive species are always positioned to endanger the state's economy.
"Increasingly in the last couple of years, the threats continue to grow. The threats are from many sources, but in the Department of Agriculture that is primary to the Bureau of Plant Industry and the work that they do," Redding said. "It's also a threat to the state in terms of economics, homeowners, and the plant kingdom as well. A lot of that has to do with invasive species."
Pests such as bacteria, viruses, insects, and plants can also pose threats to health and quality of life.
"We know that at the end of the day the invasive species don't respect any boundaries. They don't care. We've seen that and we want to make sure we're on top of that as well," Redding said.
A statewide survey conducted last month by the Governor's Invasive Species Council will be used to develop a strategic, regional partnership approach to managing invasive species.
The post Ag Secretary Stresses Threat Of Invasive Species To Plant Industry appeared first on ButlerRadio.com – Butler, PA.