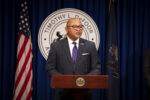 Pennsylvania's auditor general says that the waiver process that was used for COVID business shutdowns last year was flawed.
Republican Tim DeFoor released a report yesterday that said many businesses were confused about whether they were "life-sustaining" or not back in early days of the pandemic.
He says that the review process of the waivers was also inconsistent and unfair to business owners.
He also added that the ongoing changes were understandable in the moment, but presented challenges to business owners trying to navigate the waiver process.
DeFoor is recommending that the Governor's Office update the process for determining what is a "life-sustaining" business.
The post Auditor General: Business Waiver Process Was Flawed appeared first on ButlerRadio.com – Butler, PA.