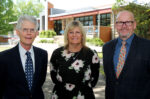 The BC3 Education Foundation has added three community leaders as directors.
They are Tom Martin, who owns Martin Funeral Home in Butler, Carol Achezinski, (Evans City) Senior VP of preferred corporate services at NexTier Bank in Butler, and Gary Rauschenberger (Center Twp), who retired as VP with First National Trust Co., Hermitage.
The three will join 16 others with the BC3 Education Foundation, which acquires and manages private funds to support BC3's mission, goals, activities and programs. The foundation funds student scholarships, technology enhancements and capital projects.
"They all bring unique areas of interests and expertise," said Ruth Purcell, executive director of the BC3 Education Foundation. "Tom is a business owner, Carol certainly has banking and community experience, and Gary's financial skills are incredible."
Martin and Achezinski are among four BC3 Education Foundation board members who attended BC3, along with Tony Shakely, of Butler, commercial lending officer at Armco Credit Union; and Joseph E. Kubit, a Cabot attorney who serves as an ex-officio director and is also chairman of BC3's board of trustees.
Achezinski served on the BC3 Education Foundation board from 2011 through 2019, and as its chair from 2013-2019. Shakely is the current chair and Rauschenberger will become treasurer.
In addition to Achezinski, Kubit, Martin, Rauschenberger and Shakely, the BC3 Education Foundation's directors include Nancy Hunter Mycka, Valencia, executive vice president, Hunter Truck, who serves as board vice chair; Jay Shaffer, Butler, financial professional, J.G. Shaffer Financial, who serves as secretary; Arthur H. Aronson, Renfrew, retired president, Allegheny Teledyne; Cathy Bronder, Butler, community volunteer; Kelly Giles, Butler, owner, Butler Business Systems; Jeannie Gilkey, Butler, manager, Northwest Bank; and Cathy Glasgow, president, Butler County Ford.
Directors also include Robert Hovanec, Wexford, retired president and chief operating officer of Peoples TWP and retired senior vice president and chief financial officer of the Peoples Service Co.; David C. Huseman, Butler, BC3 professor of humanities and social science; John Lewis, Butler, president and chief executive officer, Armstrong County Memorial Hospital; Dr. Nick Neupauer, president, BC3, who serves as an ex-officio director; Martin J. O'Brien, Butler, retired Butler County judge; and James A. Taylor, West Sunbury, retired attorney.
Picutred:
Three new directors on the Butler County Community College Education Foundation's board are shown in front of the Heaton Family Learning Commons on BC3's main campus in Butler Township on Monday, June 29, 2020. From left to right; Gary Rauschenberger, Carol Achezinski, and Tom Martin. 
The post BC3 Foundation Adds 3 Local Leaders As Directors appeared first on ButlerRadio.com – Butler, PA.