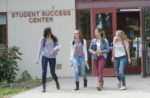 Butler County Community College is continuing to adjust to changing circumstances while keeping flexibility at the center of plans for the upcoming fall semester.
"We want to make sure in offering our classes in the fall, we do so in the safest way possible for not only our students, but also for our faculty and staff," BC3 President Dr. Nick Neupauer said. "And certainly we need to keep in mind the bottom line also, and that would be revenues coming in, or on the other side of the spectrum, lost revenue."
Earlier this week BC3 trustees approved a plan that would freeze tuition and fees for the upcoming academic year and allow all six locations to operate in an expanded capacity beginning July 6th.
The latest plan is for BC3's fall 2020 semester to include five sessions with the first 15-week session beginning August 24th. Courses will be delivered through one of the flexible scheduling formats until November 23rd when courses will transition to remote instruction for the next two weeks including finals week and examinations.
BC3 will also offer four fully online credit sessions in the fall including a 10 week session and three 5 week Fast Tracks.
Everyone on BC3 campuses must follow current requirements including face masks and social distancing. If guidance from state and national authorities change, additional information could be released in the future.
The post BC3 Planning For Flexible Fall Schedule appeared first on ButlerRadio.com – Butler, PA.