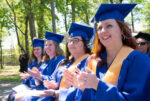 While a majority of graduates from Butler County Community College are typical college age, there were a significant number of this year's class that would be considered "non-traditional."
College officials say that of the 464 students that earned a diploma earlier this month, 37 percent were over the age of 25.
BC3 says the oldest graduate of the class was Maryann Henley who was 66-years-old. The youngest was 19-year-old Layne Guidotti of Butler.
Community colleges are known for educating nontraditional-aged students, said Dr. Nick Neupauer, president of BC3.
According to Neupauer, the students success "also speaks to the counseling, the advising and the great staff, including faculty, who give attention to this nontraditional-aged population."
BC3 says this was the 14th straight year in which there were over 400 students that graduated.
The post BC3 Touts Non-Traditional Graduates appeared first on ButlerRadio.com – Butler, PA.