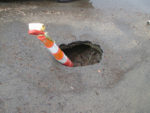 Typically potholes are an early sign that spring is on the way, but AAA says this year's fluctuating temperatures are leading to their arrival earlier than normal.
Potholes form when moisture collects in small holes in the pavement; the water then expands and contracts when temperatures swing.
Drivers in western Pennsylvania are quite familiar with the danger potholes present—especially when it comes to repairing cars.
AAA says on average one in ten drivers sustained damage significant enough to warrant a repair.
They encourage drivers to stay alert, drive slow, and avoid puddles which often disguise potholes.
The post Beware Damaging Potholes appeared first on ButlerRadio.com – Butler, PA.