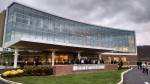 Butler Health System's Chief Executive Officer is offering his reaction amid the financial troubles the hospital has encountered as a result of the coronavirus pandemic.
Ken DeFurio spoke to media during a conference call yesterday.
"We anticipate that we will continue to operate at a loss for six to seven months," DeFurio said. "And then somewhere around January or February, we hope to turn the corner and get back into the black in terms of income."
Butler Health System announced nearly 60 layoffs earlier this week.
DeFurio says the organization is facing a $15 million loss as a result of the pandemic. However, he says the safety of staff and patients drives every decision.
"I think that just needs to be the overlay before money, volumes, or any other operational issues is safety, safety, safety," DeFurio said. "That has been our focus and it will continue to be."
Butler Health System reopened for elective surgeries a few weeks ago.
The post BHS CEO: Hospital To Operate At A Loss For 6-7 Months appeared first on ButlerRadio.com – Butler, PA.