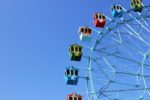 The 164th Big Butler Fair continues Tuesday in Prospect.
The event, which is held at the Big Butler Fairgrounds on New Castle Road, is one of the largest fairs in the state. Attractions include amusement rides, livestock exhibits, live music and food stands.
The Kid's Caravan Parade will take place at 6:30 p.m. Tuesday, followed by Figure 8 Races and a Truck Demo at 7 p.m.
Fair admission is $7 before 4 p.m. and $9 after. It does cost more if you want to ride the amusement rides. Children ages 6 and younger get in for free.
The fair runs through Saturday, July 6.