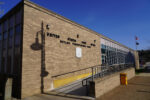 A bill to rename the post office in downtown Butler has taken another step toward becoming law.
Republican Congressman Mike Kelly sponsored the bill to name the post office at the corner of South Main and Wayne Street after Civil War hero Andrew Gomer Williams.
The bill passed unanimously through the House Committee on Oversight and Reform.
Williams was injured four times during the Civil War, including once when he was thought to have died in action. Local historian Bill May gave a detailed description of Williams' life at a speech in the North Main Street cemetery—that speech is now formally a part of the Congressional records.
History of Andrew Gomer Williams via Rep. Kelly's office:
In 1861, at the age of 21, Andrew Gomer Williams enlisted in the Union Army, assigned to help
raise three companies of men in the newly created 63rd PA Volunteers. He was soon promoted
to the rank of Captain of Company E of the 63rd PA Volunteers. Mr. Williams led his company
in over a dozen battles, ultimately being wounded four times, including in 1863 when he was
thought to have been killed in action. However, four days later, he was miraculously found alive
on the battlefield. He then carried out the rest of his service alongside his regiment until August
6, 1864.
After the war, Mr. Williams returned home to Pittsburgh to study law while working in the
factories to support his family following his father's death. Despite 13 tragic deaths in Mr.
Williams' own family, his dedication to his community never faltered. He opened a law firm in
Butler, served two years in the Pennsylvania House of Representatives, four years in the
Pennsylvania State Senate, 20 years as the Choir Director of Butler's First Methodist Church,
assisted soldiers' spouses in receiving their Civil War Widow's Pension, and volunteered on the
Board of Directors of the Civil War Orphans Home.
The post Bill To Rename Downtown Post Office Moves Forward appeared first on ButlerRadio.com – Butler, PA.