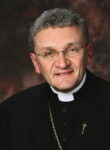 Bishop David Zubik of the Diocese of Pittsburgh is set to undergo another back surgery.
Zubik is scheduled to have his sixth spinal surgery today in order to help with issues involving collapsing discs.
Diocese officials say he will most likely miss most public appearances while recovering from surgery, but will continue working from his home.
Zubik said in a statement to "remember me in your prayers" and is looking forward to a successful surgery that will allow him to return to service.
The post Bishop Zubik To Undergo Spinal Surgery appeared first on ButlerRadio.com – Butler, PA.