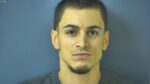 Bond has been revoked for the man accused of shooting three people in the parking lot at the Clearview Mall.
Our newsroom spoke with D.A. Rich Goldinger yesterday who said he made that request because of the serious nature of the charges against 24-year-old Carlos Gonzalez Carril of Butler.
According to Goldinger, Carril got into a disagreement with 21-year-old Ryan Ehrman, 19-year-old Damian Blystone, and another juvenile inside the Rural King on Tuesday night.
All of them then left the building and got into their vehicles. That's when Carril allegedly opened fire on their SUV.
Goldinger said all three suffered injuries that are not considered life-threatening at this time.
Carril is facing three counts of attempted homicide, aggravated assault, and simple assault.
The post Bond Revoked For Accused Clearview Mall Shooter appeared first on ButlerRadio.com – Butler, PA.