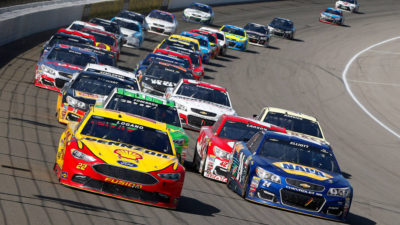 Brad Keselowski won the Coca-Cola 600 Sunday night at Charlotte Motor Speedway, taking advantage of a late-race caution to take the race from Chase Elliott, who was leading at the time. Jimmie Johnson was the runner-up as the race ended, with Elliott slipping to third when he remained on old tires during the last overtime restart. For Johnson, his win-less streak has now reached 102 races.
After the race, Johnson's car failed inspection and he was disqualified and given a 40th place finish.
Nascar has also suspended three critical members of Denny Hamlin's crew, including his crew chief and car chief, after a required piece of equipment fell off the #11 car during Sunday's race at Charlotte.
The Cup Series returns to Charlotte Wednesday night on WBUT beginning at 7pm.
Kyle Busch drove to victory on the final lap of overtime last night for an Xfinity Series win at Charlotte Motor Speedway in North Carolina, the 97th of his career. Busch has won 210 races across NASCAR's top three series, the most of any driver.
The post Busch takes Charlotte Monday/Johnson DQ's after Keselowski wins/Hamlin problems appeared first on ButlerRadio.com – Butler, PA.