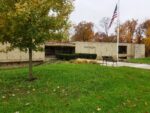 The Butler Area School District is one of several districts around the state considering making changes to policies that deal with students and special interest groups distributing or posting materials.
According to Butler Superintendent Dr. Brian White, the Pennsylvania School Board Association recently sent an alert about language in a couple older PSBA policies that does not comply with federal law.
The district's solicitor has revised the language in those policies so that Butler will be in compliance with federal law and not be sued. Attorney Tom King explains:
"You'll see every district around doing the same thing; anybody who got their policies from PSBA. I don't know how old these are but they go back a while. They've been challenged in court as to the language in these policies and so the organization that threatened to sue gave everybody a heads up and said if you change the policy, we wont sue you, obviously. So in looking at the objections to the policy, I think they have merit and we should change them".
The Butler School Board is expected to approve a first reading of their revised policy at their next meeting on Monday.
The post Butler Board Plans To Revise Policy About Distributing Materials appeared first on ButlerRadio.com – Butler, PA.