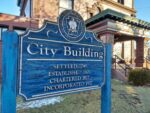 Butler City Council heard from a local lending institution as they consider a financial advisor for proceeds from the sale of Butler Area Sewer Authority assets to PA American Water.
Several representatives of NexTier Wealth Management, including President and CEO Clem Rosenberger, spoke to council about what they would bring to a partnership with the city.
Points of emphasis included commitment to the city, trust that resources will be available, expertise, communication, and a relationship that is mutually beneficial as well as fair. NexTier also pointed out their fiduciary status which means that their top obligation is to do what is best for their client.
Mayor Bob Dandoy says it's important to get and understand the information necessary to make an informed decision.
"As a former English teachers, I usually don't like clichés. But, the cliché applies here. 'Did you ever take a drink of water from a fire hose?'" Dandoy said. "This is what it is. This is an amazing amount of information and we sincerely thank [NexTier]."
Companies still scheduled to present include PNC, Edward Jones, and Baird formerly known as Hefren-Tillotson. A Council vote to choose a company could be taken in May.
The post Butler City Council Hears From NexTier On Possible BASA Sale appeared first on ButlerRadio.com – Butler, PA.