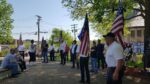 This Monday various Veteran organizations will be gathering to parade through Butler in honor of Memorial Day.
The parade will start at 10:30 a.m. at Penn Street and Main Street and head southbound to Diamond Park where there will be a ceremony to remember all of the lost veterans and those that have been lost in the last year.
During the ceremony there will be readings from veterans, a Butler High School Graduate will sing songs of national pride, and display of remembering lost veterans.
Director of the Veteran's Service Office, Shawnee Young, shares the importance of the Memorial Day parade and ceremony.
"We honor them the best way we know how, by holding this ceremony for not just our veterans who passed away last year but for all of our veterans who have passed away," Young said. "And we do what we can to honor our Butler County veterans. We have our parade and our solemn remembrance of them."
Various VFW Posts will be offering food and drinks after the ceremony.
The post Butler City's Memorial Day Parade Set For Monday appeared first on ButlerRadio.com – Butler, PA.