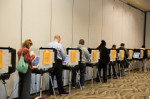 The Butler County Bureau of Elections is looking for poll workers for the June 2nd Primary Election at precinct locations around the county.
Poll workers will include precinct Election Board members like judge of elections, inspectors, and clerks who staff polling places on Election Day to ensure that the election is successful.
Poll workers will be completely trained in all aspects of their jobs such as operating voting equipment. Workers will be expected to be at the polling location from about 6 a.m. to around 9:30 p.m. for each twice yearly Election Day. Workers can earn between $185 and $200 per day depending on the position.
Anyone interested in a position or wanting more information should either call the Elections Bureau office or visit the county's website.
The post Butler County Seeking Poll Workers appeared first on ButlerRadio.com – Butler, PA.