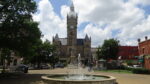 Butler County is scheduled to receive funding to help offset the cost of the coronavirus pandemic.
Commissioners approved a resolution to seek nearly $17 million from the state's county relief program. The funding will go toward COVID-19 related expenses; including small business grants that will support businesses with less than 100 employees.
There were seven categories that the money can be used for:
Offsetting the cost of direct county response, planning and outreach efforts related to COVID-19
Assist qualifying municipalities located within the county to offset response and planning efforts related to COVID-19
Small Business Grant Programs to support businesses with fewer than 100 employees and to support businesses and other entities that are primarily engaged in the tourism industry
Grant programs to support the following entities for costs related to assisting businesses during the COVID-19 Disaster Emergency: CEDOs, LDDs, IRCs, SBDCs, and EDCs
Behavioral Health and Substance use disorder treatment services
Broadband internet deployment with priority given to unserved or underserved areas
Qualifying non-profits
Overall, Governor Tom Wolf approved the disbursement of $625 million to sixty counties within Pennsylvania.
The post Butler County To Receive State COVID Funds appeared first on ButlerRadio.com – Butler, PA.