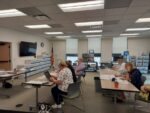 Butler County's review of the 2020 election is continuing this week.
County Solicitor Wil White says they finished the review of the Butler City 4-1 precinct and found the results were 99.9 percent accurate between the hand recount and the machine.
White says that the machines have been "dead-on accurate" so far; citing the lone mistake happened during the hand recount.
He also noted the immense time difference between the two processes. On average, it's been taking around an hour to hand count 100 ballots; meanwhile on the machine it takes around three to four minutes.
The workers, who all have election experience, described the hand counting process as "tedious" and "time consuming."
Right now the group is reviewing the results from Donegal Township—White expects that to be done by this week.
The post Butler County's 2020 Election Review Continues appeared first on ButlerRadio.com – Butler, PA.