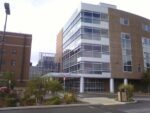 Butler Health System officials have reported the first death as a result of a confirmed case of COVID-19.
No specific details about this case have been provided but the incident has been reported to the PA Department of Health. As of 10 a.m. Wednesday, over 560 tests had been performed by BHS including nearly 400 at the outdoor facility by the hospital.
A total of 16 people have been admitted to Butler Memorial Hospital with two confirmed coronavirus cases and 14 suspected. This includes five patients currently in the hospital's intensive care unit (ICU). In addition, Clarion Hospital has admitted two ICU patients suspected of infection with COVID-19.
This increase in patients with COVID-19 symptoms was expected and BHS has activated surge capacity plans to care of everyone who requires hospitalization. BHS continues to receive donations of personal protective equipment but their supply is adequate at this time. Anyone who believes they have symptoms should first call their doctor before trying to go anywhere to get tested.
The post Butler Health System Confirms First COVID-19 Related Death appeared first on ButlerRadio.com – Butler, PA.