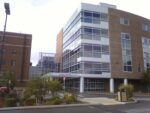 Butler Health System is continuing to test and care for those dealing with COVID-19.
As of 10 a.m. Wednesday, a total of five patients are currently being treated for COVID-related symptoms at Butler Memorial Hospital with two confirmed coronavirus cases and three suspected. One patient is currently in the hospital's intensive care unit (ICU).
BHS received 18 vials of Remdesivir which will be used to treat between one and three COVID-19 positive patients. The distribution of this drug is being controlled by the state due to very limited quantities available.
In addition, Butler Health System is thanking the Butler Eagle for a large monetary gift to be used for COVID supplies which was presented to local nurses and respiratory therapists on Tuesday.
The post Butler Health System Continues Caring For Local COVID Patients; Receives New Drug appeared first on ButlerRadio.com – Butler, PA.