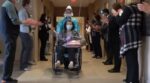 Butler Health System announced Tuesday that an important milestone has been reached in the local road to recovery from COVID-19.
The first local patient to be discharged after spending time on a ventilator is heading home. The woman spent nearly a month in the hospital but was able to leave with a clean bill of health.
BHS also announced Tuesday that Butler Memorial Hospital currently has no COVID-19 patients on ventilators.
Two patients that had been receiving mechanical ventilation support were able to be taken off the machines and breathe on their own. After several weeks with no visitor contact, both patients were able to enjoy virtual visits with loved ones.
BHS continues to study the complex issue of returning to a normal schedule of elective visits, procedures, and surgeries.
The post BMH Celebrates Woman Discharged After Being On Ventilator appeared first on ButlerRadio.com – Butler, PA.