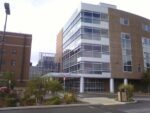 Butler Health System is continuing to test and care for those dealing with COVID-19.
As of 10 a.m. Thursday, nearly 700 tests had been performed by BHS including nearly 500 at the outdoor facility by the hospital.
A total of 14 patients are currently in Butler Memorial Hospital with one confirmed coronavirus case and 13 suspected. This includes four patients currently in the hospital's intensive care unit (ICU). No further information has been released about the patient who died as a result of COVID-19 at Butler Memorial Hospital on Wednesday.
In addition, Clarion Hospital has admitted two ICU patients suspected of infection with COVID-19. BHS continues to encourage and receive donations of personal protective equipment but their supply is adequate at this time.
The post Butler Health System Updates Status Of Local COVID-19 Treatment appeared first on ButlerRadio.com – Butler, PA.