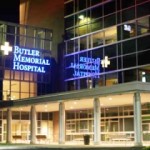 For the first time since the coronavirus pandemic began, some visitors will be allowed inside Butler Memorial Hospital.
Officials announced the new visitor policy earlier this morning. Most patients will be limited to one designated visitor for the duration of their stay. Those visitors will be screened at hospital entrances, physician offices and outpatient sites.
Visitation hours will be limited from 11 a.m. to 7 p.m.
The one visitor policy is also in place for surgeries, the emergency room, outpatient and maternity care—although there are different specific policies for each department.
Butler Memorial Hospital is also opening the Tower and Brady Street entrances for patients. Hours are limited as well.
Click here to view the hospital's full visitation policy and other information about COVID-19.
The post Butler Health System Updates Visitation Policy appeared first on ButlerRadio.com – Butler, PA.