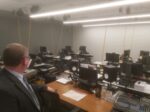 The Butler School Board continues to devote some meeting time to improve engagement with community members while also learning more about the activities of each school facility.
The second of two November meetings was held at Butler Senior High School Monday night so that board members could get a closer look at changes as well as hear from choral students who sang the alma mater.
Administrators spoke to board members about the school's educational initiative to Inspire Hope by engaging students differently. In encouraging the students to set goals while reducing absenteeism and avoiding punitive discipline, administrators are seeking to change negative aspects of the Senior High culture.
Administrators also spoke of a $70,000 Moonshot Grant that would provide a largescale outdoor projector utilizing speakers and artificial intelligence to give students design opportunities. Another effort will see a leadership retreat for 80 to 100 students at BC3 in February.
The post Butler School Board Meeting Looks At Senior High Improvements appeared first on ButlerRadio.com – Butler, PA.