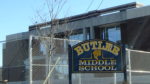 Butler Area School District continues to help address community needs while also preparing for future instructional possibilities.
At Monday night's meeting, Butler Superintendent Dr. Brian White provided School Board members with an update about food and technology distribution.
Nearly 1,300 students are currently receiving food from the Butler Area School District with about 18,000 meals distributed per week. The majority of those are being delivered by school police officers.
School police are also distributing a couple hundred internet capable devices for families without available technology. The district also has 70 "hot spot" devices to provide free Wi-Fi service and is waiting for their distributor to be able to provide at least 30 more.
White also explained that some district employees, including many paraprofessionals have been shifted to food service responsibilities as well as custodial services so that they do not have to be unemployed during the ongoing coronavirus crisis.
The post Butler School District Providing Technology Assistance To Students appeared first on ButlerRadio.com – Butler, PA.