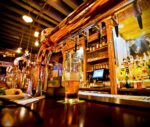 Butler Township restaurants are being given a chance to get creative as they work to welcome back patrons.
At a special meeting Wednesday night, the Butler Township Commissioners approved a resolution that temporarily reduces the amount of parking spots required to be available by 40%.
At least one or two restaurants have already expressed interest in the idea of setting up some sort of outside seating area in their parking lot in order to deal with COVID-19-related 50% occupancy restrictions. This new policy will continue to be in effect as long as Butler Township remains in the green phase of reopening.
This policy does not allow for altering the number or location of parking spaces dedicated to physically disabled people. Anyone with questions about what kinds of set-ups are permitted should contact the Butler Township Zoning Department.
The post Butler Twp. Approves New Restaurant Parking Plan To Allow Outdoor Dining appeared first on ButlerRadio.com – Butler, PA.