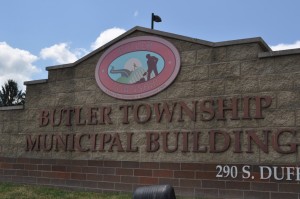 The monthly public meeting of the Butler Township Commissioners looked a little different Monday evening.
Due to the ongoing COVID-19 pandemic, only commissioners Dave Zarnick, Fred Vero, and Jim Lokhaiser Jr along with Township manager Tom Knights were present.
One of the items addressed by Commissioner Zarnick was a declaration of emergency.
"This declaration allows Butler Township to make decisions that will give the township access to state and federal funds if they become available and if Butler Township is qualified to receive them," Zarnick said. "The pandemic has made Butler Township change the way we do business, as is the case with everyone at this time."
The meeting also included the opening of two bids for an asphalt resurfacing project which could be modified or reduced in scope due with concerns about the financial impact of the coronavirus.
The commissioners also accepted the retirement of longtime township police officer Al Mores effective June 23rd.
"It's been a privilege and an honor for the last thirty-plus years to have serve with many fine men and women in this department," Mores said in a statement, which was read by Knights at the meeting. "But in these unsettling times, I'm forced to make a decision that is undoubtedly very difficult and personal. Thank you for all your support over the years and God Bless the many men and women who continue to serve our country."
This meeting was broadcast live on WBUT 1050 AM.
The post Butler Twp. Declares Disaster Emergency; Other Meeting Notes appeared first on ButlerRadio.com – Butler, PA.