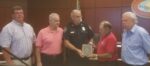 A local law enforcement officer was recognized for a special anniversary at Monday night's Butler Township commissioners meeting.
Police Chief John Hays received a plaque, cake, and congratulations from the board as he recently marked 40 years as a member of the department.
Hays said he was "honored to be honored" and that 40 years does not seem that long. He went on to say the biggest change he has noticed during that time has been technology advances. He also said he has a few more years left in him.
Hays' first day as a patrol officer was August 13, 1979 before rising through the ranks to arrive at his current position as chief.