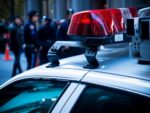 Butler Township Police say a viral post on social media talking about a kidnapper at the local Walmart is fake.
The story on social alleges that a man is stalking a woman at Walmart and then tries to steal a car seat out of the woman's vehicle.
Butler Township Police say they were never called about an incident like that, and also add that there have been previous fake social media posts that are similar.
Police say they take these calls seriously and would respond to any incident like that in nature.
The post Butler Twp. Police Warn About Fake Social Media Post appeared first on ButlerRadio.com – Butler, PA.