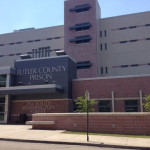 A Butler woman is behind bars after she allegedly stabbed and killed her boyfriend over the weekend.
Police say 31-year-old Shaina Grush is facing homicide charges for the death of 43-year-old Robert Wagner.
The stabbing allegedly happened early Sunday morning around 2 a.m. at an apartment in the 100 block of West Jefferson Street. Police say Grush and Wagner got into an argument after visiting a convenience store in the city.
The argument then continued into the apartment. Grush allegedly threatened Wagner that she would "stab him in the face." That's when Grush pulled out a knife with an 8″ blade from a kitchen drawer and stabbed Wagner in the chest.
According to the criminal complaint, Wagner grabbed his chest and walked to the bathroom. Grush then said "Oh my God, did I really just do that?"
She called 911 to report that Wagner was injured.
When police arrived, they questioned Grush who said that she and her 11-year-old son were present in the apartment at the time, along with another man. Grush told police she didn't know how Wagner was stabbed.
Butler Ambulance Service responded to the scene, and took Wagner to Butler Memorial Hospital, where he was pronounced dead.
Police eventually interviewed the other man who Grush said was at the apartment when Wagner was stabbed. He provided details to police, including the size of the knife. Police found evidence corroborating the witness's story.
Grush is in the Butler County Jail, being held without bail.
The post Butler Woman Arrested For Fatal Stabbing appeared first on ButlerRadio.com – Butler, PA.