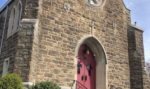 Good Friday is a little different than normal.
Most churches have closed their physical locations for this Easter Weekend, per the rules laid out by the Governor's office.
But, many churches are trying to find ways to bring their services to their worshipers.
On the Butler Radio Network, we have the Trinity Lutheran Church Good Friday service on WISR 680 AM at 1:30 p.m. today.
And WBUT 1050 AM will be re-airing last year's Good Friday service from St. Andrew's United Presbyterian Church at noon.
Many churches are also video streaming their services online—and Armstrong is broadcasting Catholic masses from St. Paul's today and on Easter Sunday.
The post Churches Changing Plans For Easter Weekend Amid Pandemic appeared first on ButlerRadio.com – Butler, PA.