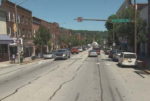 The City of Butler is applying for a grant to make improvements downtown that could result in increased taxes or borrowing.
Following a lengthy discussion, Council approved the submission of an application for a Multimodal Transportation Fund grant with the PA Department of Community and Economic Development.
This over $1 million grant would include a local match contribution by the city of over $300,000. Councilmember Mike Walter cast the lone dissenting vote, citing financial concerns.
The money would be used for the City's Pedestrian Accessibility and Safety Improvements Project to repair sidewalks along Main Street from Wayne to Brady Streets from the curb to approximately six feet from the buildings.
Mayor Ben Smith talks about where the city's portion of local match funding could come from if the grant application is approved.
The grant we applied for that we had designated the money for this year, did not get approved. So we have the money that we already agreed to spend for that," Smith said. "We have the possibility of using the Butler County Infrastructure Bank, as well as a couple of other revenue sources that aren't public knowledge, that will becoming of note soon."
It is unknown when the state will make a decision about awarding these grants but it is possible the city will not hear until next year.
The post City Applying For Grant To Improve Downtown Sidewalks appeared first on ButlerRadio.com – Butler, PA.