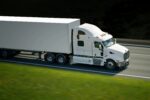 Butler City Council is taking steps to possibly prohibit the use of engine brake retarders on large trucks.
Council officially began the process Thursday night when they approved a resolution to request authorization from PennDOT to be able to post the prohibition mainly on North Main Street hill.
"Some residents in the city have been sending us complaints about the air brakes on large trucks when they're coming down large hills coming into the city," Councilman Kenny Bonus said. "It's just constant at various hours of the day. And we're looking to see if there's a certain solution that we can find to help address their concerns."
Now that the city has officially requested authorization, a district traffic unit from PennDOT will review the request. If it is approved, then the city would need to enact an ordinance to allow for enforcement by the City Police Department.
The post City Considers Prohibiting Engine Brake Retarders appeared first on ButlerRadio.com – Butler, PA.