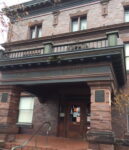 Butler City Council will replace some heating equipment in the parks building.
Thursday night Council accepted a quote from VHC Vantine Heating and Cooling to replace overhead units that cannot be repaired for nearly $6,000.
A total of three quotes were obtained for the project with this company selected based on its status as a trusted provider in the past. Money for this emergency work will come out of the City's general fund.
The work is expected to take place sometime next week.
The post City Council Approves HVAC Work At Park Building appeared first on ButlerRadio.com – Butler, PA.