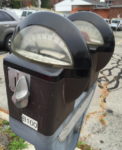 Butler City Council is continuing to explore options when it comes to improving parking services in the city.
Councilman Mike Walter shared a proposal he received from a vendor called Flowbird who provides parking kiosks to 20 municipalities in Pennsylvania dealing with new machines to handle parking. Walter says they are just one of the options for this idea and are looking at two different vendors.  Also, Walter said that its just an idea to look into and might or might not be the way to go but are inquiring about the economic costs to trying such an effort.  
No action on the purchase of kiosks is imminent at this time but the City will continue to gather information about possible modifications.
According to Mayor Ben Smith, an investment in new kiosks has the capability to bring in additional revenue but it would also give residents options when it comes to parking convenience.
Smith says, "For those who do use the meters currently, this will be a way for them to pay for parking from their phone.  If they are at dinner and they have only 10 minutes left but they have another two course to their meal, they can do this from their phone instead of having to run out and put quarters in.  It's not just a…we're trying to add parking revenue, certainty that is a consideration but it's also an improvement in that kind of system."
Council is expected to ask Flowbird and other vendors to present offers and available options at a future council meeting.
---
---
#ButlerCityCouncil
#downtownButler
#parking
#kiosks
The post City Council Looking At Additional Parking Options appeared first on ButlerRadio.com – Butler, PA.