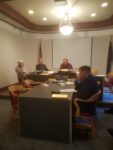 The City of Butler is applying for grant money in order to make improvements to a local park.
Director of Parks, Recreation and Public Property Councilman Jeff Smith said the city wants to rehab Ritts Park.
City Council passed a motion Tuesday night to comply with the requirements of the Butler County Parks Renovation Program in order to file their application before it is due later this month.
Under this program, the city would put up 25 percent of the cost of the project, in this case $2,500 and Butler County pays for the remaining $7,500. The city received has previously received grant help to make improvements to Memorial Park.
Once the application has been submitted, a committee from the county is expected to review requests and decide which ones can be funded.
The post City Council Looking To Renovate Ritts Park appeared first on ButlerRadio.com – Butler, PA.