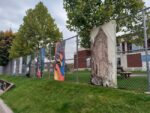 Meetings are ongoing to discuss the future of the cultural district in the City of Butler.
According to Mayor Bob Dandoy, a meeting of the Rotary Arts District last week included a guest from the state.
"We met with a representative from the PA Council for the Arts. This representative goes around and interviews different groups about their different projects they have to see if they qualify for a special grant that is being administered."
Local officials expect to find out in the next couple of weeks if they will advance to the next round to seek funding for cultural district projects.
The initiative is being led by the Butler PM Rotary and with the continuing goal of establishing an area in Downtown Butler to serve as a space where arts and cultural diversity are celebrated.
The post City Cultural District Seeks State Grant Funding appeared first on ButlerRadio.com – Butler, PA.