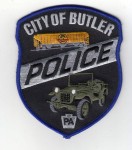 The Butler City Police recently confirmed that all local people classified as sexual offenders are complying with everything required of them.
The U.S. Marshalls funded Operation Safe Tornado which provided City Police with the documented names and locations of all sex offenders living in the city area.
Officers then went out in January and February and physically checked that each one of these 63 people were in compliance with accurate residences and workplaces.
13 of those 63 people currently reside in the Butler County Prison system. Although no violations were found, this joint operation does serve to improve public safety and reduce the amount of local crime.
The post City Police Verify Local Sex Offender Information appeared first on ButlerRadio.com – Butler, PA.