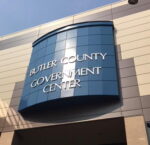 Butler County formally approved the agreement with their interim solicitor.
Julie Graham took over the position for the county earlier this month following former solicitor Wil White departure from the job.
Graham's agreement will see her receive a monthly salary just over $11,000.
County commissioners say their goal is to get through the primary election and then they will look to fill the position. Their expectation is to have a new full-time solicitor by mid-to-late summer.
Graham has previously served as solicitor for the county on both a full-time and interim basis.
The post County Formally Approves New Solicitor Contract appeared first on ButlerRadio.com – Butler, PA.