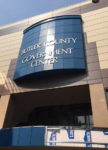 Butler County Commissioners and other administrators are keeping the lines of communication open with local municipal officials.
The commissioners hosted a telephone conference meeting on Thursday with assistance from the Butler County Director of Emergency Services, the county's Chief of Economic Development and Planning, the county's Director of Human Services, and the Butler County Court of Common Pleas Administrative Judge.
Topics that were discussed included declarations of disaster, stay at home orders, securing police and EMS supplies, the impact of the COVID-19 pandemic on business, elections, taxes, and other resources.
Commissioners Leslie Osche, Kim Geyer, and Kevin Boozel plan to continue holding these sessions about every two weeks for as long as this public health situation continues.
The post County Officials Update Municipalities appeared first on ButlerRadio.com – Butler, PA.