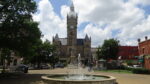 Butler County Commissioners are offering their assistance to help municipalities receive their federal CARES Act funding.
$8 million was allotted to municipalities from the $17 million total the county received in federal coronavirus relief money.
According to a press release, expenses for municipal volunteer fire departments and EMS services are not eligible for reimbursement with this particular funding, but there is money available for volunteer emergency services in other remaining parts of the county funding.
Municipalities interested in receiving the funding need to apply by August 21st. Butler County Chief of Economic Development and Planning, Mark Gordon, is overseeing the program and is the point of contact. He can be reached at 724-284-5300 or by email at MGordon@co.butler.pa.us.
The post County To Help Municipalities Receive Coronavirus Relief Funds appeared first on ButlerRadio.com – Butler, PA.