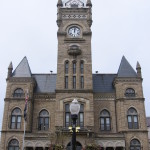 A local lawyer is declaring victory in the first round of the lawsuit filed by Butler County against Governor Tom Wolf after a ruling by a federal judge.
Tom King of the firm Dillon, McCandless, King, Coulter, and Graham is serving as special counsel to Butler County.
"The judge's decision today is a victory for Butler County and the plaintiffs," King said. "The judge has agreed that there are elements of our complaint that need to be determined on a basis expedited under the federal rules. What that means is that he found three of the five counts that we filed in our complaint will be heard by him on an expedited basis. The other two remaining counts will be heard later."
According to King, this decision represents that the judge believes the claims being made in the suit are important and appeared to result in widespread legitimate Constitutional issues.
The lawyers for the plaintiffs including Butler County will meet with the Attorney General's Office before 5 p.m. Monday. Then on Tuesday, the judge is expected to issue dates at which time the case will proceed to a hearing.
Butler County and the other municipalities, businesses, and individuals that have filed this lawsuit allege that the actions of Wolf during the COVID-19 pandemic are unconstitutional under federal law.
The post County To Receive Expedited Hearing In Some Counts Of Lawsuit Against Wolf appeared first on ButlerRadio.com – Butler, PA.