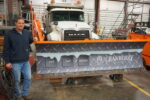 Cranberry Township says residents will have another chance to name a snowplow again this year.
Officials say they received thousands of submissions last year in their "Name That Snowplow" contest. It eventually led to the pick of "Control plus Salt plus Delete."
Now, this year's contest is looking for entries that are specific to Cranberry Township—whether that's a nod to its name, history, or a specific area.
Names will be accepted through February 17th. Five entries will be selected then for voting.
Submissions can be made at this link.
The post Cranberry Seeking "Name That Plow" Ideas appeared first on ButlerRadio.com – Butler, PA.