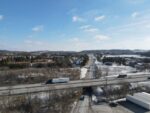 Infrastructure updates in Cranberry Township have been abundant over the last decade, but another major project could soon be underway.
Township officials say that PennDOT and the Turnpike Commission is looking at expanding a bridge on Rochester Road.
The bridge expansion would be a part of a larger project to add lanes to the Turnpike over a two-mile stretch in that area.
Township officials are eager to see the narrow bridge underpass expand, which would help alleviate congestion of the busy road.
Planning is still in the early stages, but township officials expressed optimism that the project is on the radar of PennDOT.
The post Cranberry Twp. Officials Optimistic About Rochester Road Improvements appeared first on ButlerRadio.com – Butler, PA.