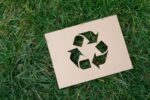 Cranberry Township's cardboard compactor is now open in a different location.
The commercial-strength compactor has now moved to its own designated spot with a dedicated driveway at the Municipal Center on Rochester Road.
Officials remind residents that there are a few perimeters in order to use the compactor.
Don't leave boxes on ground. Wet or piled-up boxes can leave a mess. Please put all boxes inside the compactor.
Break down boxes before compacting. Insert flat pieces of cardboard/flattened boxes into open slot.
The compactor is for cardboard only. NO trash. NO styrofoam. NO packing peanuts. NO packing materials.
Press the green button after loading cardboard to start compaction.
A camera monitors the compactor's use. If the compactor is down, please contact Public Works at 724-776-4806 ext. 1005.
The post Cranberry's Cardboard Compactor Reopens appeared first on ButlerRadio.com – Butler, PA.